Velcro Sticky Wall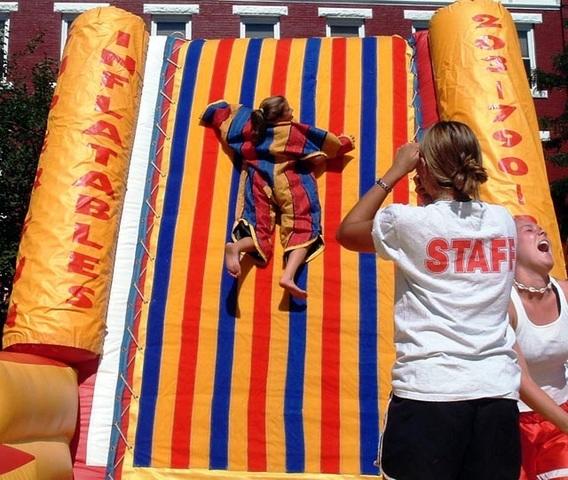 Setup Area: 20x15x15
Actual Size: 18x11x12
Monitors: 1
Outlets: 1
Description
Jump and stick yourself to the giant Velcro Sticky wall wearing our furnished Velcro Suits. It's a blast, you will enjoy telling all your friends all about it! Comes with three suits that fit just about anyone ages 7 and up. This Velcro Sticky Wall is great fun for birthday parties, fairs, family reunions, youth groups and more.
Introducing the Velcro Sticky Wall, the ultimate party rental that guarantees hours of fun and laughter!
Our Velcro Sticky Wall is perfect for all ages and occasions, whether it's a birthday party, corporate event, or family gathering. This interactive game will keep your guests entertained and create unforgettable memories.
How does it work? It's simple! Participants put on specially designed Velcro suits and launch themselves onto the inflatable wall. As they stick to the wall, they can strike hilarious poses or attempt gravity-defying stunts. The Velcro suits ensure a secure grip, allowing participants to experience the thrill of being stuck to the wall without any risks.
Safety is our top priority, and our Velcro Sticky Wall is built with high-quality materials that meet the highest industry standards. Our professional team will set up and supervise the activity, ensuring everyone's well-being and providing a hassle-free experience for you and your guests.
Not only is the Velcro Sticky Wall a blast to play, but it also adds a unique and eye-catching element to any event. Its vibrant colors and inflatable design will instantly attract attention and create a focal point for your party.
So, why choose the Velcro Sticky Wall for your next event? Here are a few reasons:
1. Unforgettable Fun: Watch as your guests laugh, compete, and enjoy the excitement of sticking to the wall.
2. Safe and Secure: Our Velcro suits and inflatable wall are designed with safety in mind, allowing participants to have a worry-free experience.
3. Versatile Entertainment: Suitable for all ages and occasions, the Velcro Sticky Wall is a hit at birthday parties, corporate events, school functions, and more.
4. Easy Setup and Supervision: Our professional team will handle the setup and ensure everything runs smoothly, so you can focus on enjoying the party.
5. Attention-Grabbing Design: The vibrant colors and inflatable structure of the Velcro Sticky Wall will make it the centerpiece of your event, attracting guests and creating a lively atmosphere.
Don't miss out on the opportunity to add some excitement and laughter to your next event. Book the Velcro Sticky Wall today and create unforgettable memories for your guests!