Water Slides
The Water Slide Rental Pensacola Needs to Keep Cool
Want to make a splash at your next party or event? Pensacola Inflatables has the largest selection of water slide rentals in the area. If you're hosting an outdoor event in the hot sun, you need a water slide to keep everyone cool, refreshed, and having a blast all party long. There's nothing more refreshing on a hot summer day than a splashdown a giant inflatable water slide. Seriously, guests of all ages will be lining up to take a turn! Whether you're hosting an intimate backyard party or a large event, we have the perfect water slide for you. We're the water slide rental Pensacola trusts to get the party started and keep it going all day long.
Not only do we have the best selection of water slides in Pensacola, but they are the cleanest and most meticulously maintained. We're committed to delivering the highest quality customer service possible and that starts with our dedication to keeping all our inflatables clean and well kept. When you trust the team at Pensacola Inflatables, you can rest assured that your water slide rentals in Pensacola FL will be cleaned, sanitized, and fully inspected for safety before they're delivered to your event. We'll never give you less than our best, that's a promise!
The Best Water Slide Rentals Pensacola FL Has to Offer
When it comes to choosing the best, our water slide rentals Pensacola FL customers love are among the top choices. It's nice to have options—and we sure have options! With over 25 different inflatable water slides to choose from, each ranging in size and style, there's no doubt we have the perfect one for your event. Whether you're looking for something simple to keep a small crowd happy or you want to make a major statement with one of our giant slides, towering over two stores, we have exactly what you need. For example, our 24' Dolphin Double Lane Water Slide with Slip and Slide is a mega-hit at just about any kind of event. Two party guests at a time have the chance to fly down the slide with enough speed to take a refreshing soak all the way through the slip and slide! All our Pensacola water slide rentals are bright, brilliant, and will most certainly be the main attraction at your event.
Not sure which slide will suit your party best? No problem, that's what our team is here for! We love helping our friends and neighbors throw an awesome party and that starts with making sure you have the right party rentals to kick things off the right way. We consider ourselves party rental experts and water slide connoisseurs. We know how to have a great time and we love sharing that knowledge with you. Reach out anytime with questions and suggestions, we're happy to help! We even have dry slides or obstacle courses for those cooler months too.
Delivering Pensacola Water Slide Rentals to All Kinds of Parties and Events
At Pensacola Inflatables, we're proud to deliver our inflatables to all kinds of parties and events all over Pensacola and the surrounding areas. Wherever your party is, you can count on us to be there with the FUN! Hosting an event at a local park? Perfect, we love delivering to our beautiful local parks. Setting up your water slide in your backyard? Awesome, we'll be there!
When you're ready to reserve your Pensacola water slide rentals, you can do so quickly and easily using our convenient online ordering system. All you need to do is choose your date, select your party rentals, and checkout. That's it! While you're reserving your inflatable water slide rentals, be sure to add in your tables, chairs, concessions, and games, too!
12 Foot Little Splash Water Slide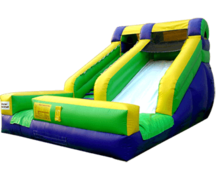 15 Foot Wave Water Slide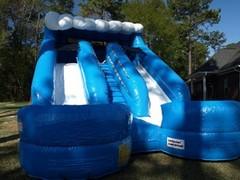 15 Foot Double Splash Down Slide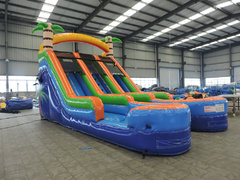 15 Foot Tiki Double Lane Water Slide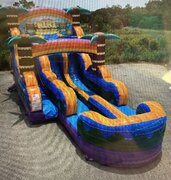 Alligator Alley Water Slide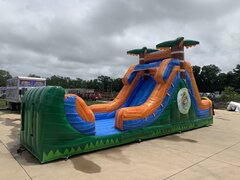 18 Foot Tsunami Water Slide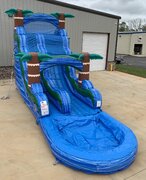 18 Foot Tropical Thunder Double Lane Water Slide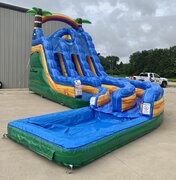 18 Foot Double Rush Water Slide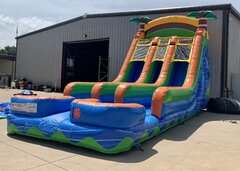 18 Foot Fire and Ice Water Slide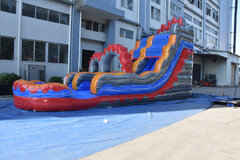 18 Foot Paradise Plunge Double Lane Water Slide
18' Big Kahuna Water Slide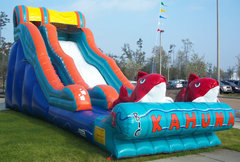 18 Foot Purple Paradise Water Slide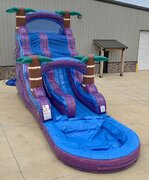 18 Foot Tropical Hurricane Water Slide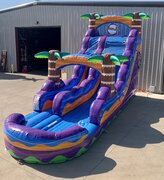 18 Foot Monster Wave Double Lane Water Slide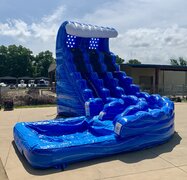 18 Foot Storm Surge Double Lane Water Slide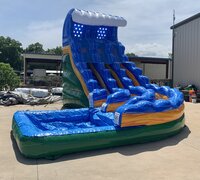 22 Foot Tidal Wave Water Slide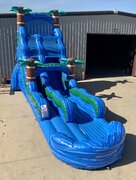 24 Foot Giant Falls Double Lane Water Slide with 35 Foot s Slip N Slide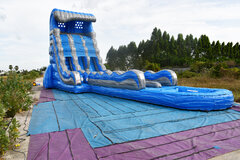 27 Foot Apex Falls Double Lane Water Slide with 35 FT Slip-n-Slide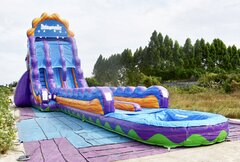 Big Kahuna Combo Water Slide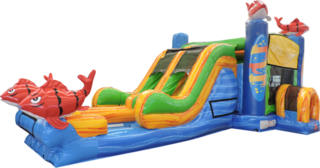 Circus Castle Water Slide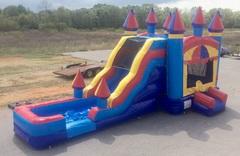 Pirate Water Slide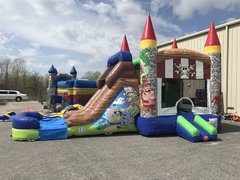 Ocean Mermaid Water Slide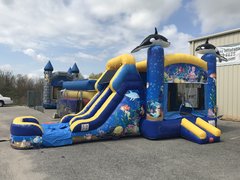 Hawaiian Double Lane Slip-n-Slide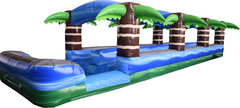 Rainbow Castle Water Slide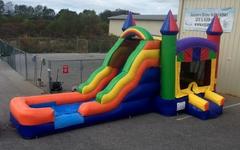 Sports Combo Water Slide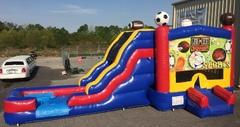 45 Foot Radical Rampage Water Obstacle